November 2011
GREEN COALITION PARTNERS FOR THE GLOBAL GREEN SUMMIT 2011
Green Coalition partners with The Economic Times ACETECH 2011 Fair for the "Global Green Summit 2011" - An International Summit on "Sustainable Urbanisation Planning & Execution" on 5th November, Bombay Exhibition Center, Mumbai, India.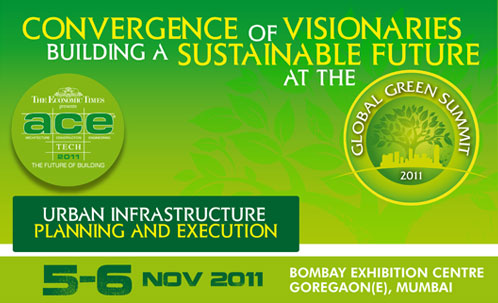 KEY FEATURES

- Creating awareness on Sustainable Urban Infrastructure it's planning and execution
- Creating awareness on Green Building (Residential and Commercial) concepts
- Innovative and emerging use of technologies, building materials and its supply chain management concerns
- Role and support of government, their policies and incentives for undertaking Sustainable projects
- National and International Case studies from relevant industry stalwarts to be followed in as a benchmark for commissioning Sustainable projects


For more information, Please visit HERE
---------------------------------------------------------------------------------------------------------------------------------------------------------------------
July 2011
GREEN COALITION 'BESSY BEACH CLEANUP' JULY 24
An official "Times of India Garnier - Take Care Take Charge" Environment Day Activity in Chennai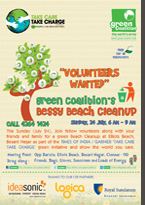 July 24th, Sunday between 6 AM - 9 AM @ Elliots Beach, Besant Nagar, Chennai - 600090. Meeting Point: Opp Barista Cafe on the Beach Road

Please bring gloves, bags, sunscreen (if you are the worried kind) and loads of energy for a fun "lets clean the beach" green activity at our favorite Elliots Beach

Remember, it takes anywhere between 100 days to 50 years on an average for sea debris and beach trash to degrade but only around 60 to 90 minutes to clean a beach. So, be there, show the world you can take charge and be part of a national environmental campaign.

This Eco-Event proudly supported by Logica, Royal Sundaram General Insurance and Ideasonic Studios. And a special thanks to the Take Care Take Charge team at Times of India.

FREE CAP for all Volunteers and Participants. For more information, please call 044-42641424 or email "mailman@greencoalition.net". Active support/partnerships sought from other NGO' and Non-Profits interested in partnering for the event.


Checkout the Bessy Beach Cleanup 2011 Facebook Event Page HERE
---------------------------------------------------------------------------------------------------------------------------------------------------------------------
Food in Focus
Short Film Competition 2011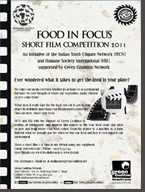 An Initiative of the Indian Youth Climate Network (IYCN) and Humane Society International (HSI), supported by Green Coalition Network

Ever wondered what it takes to get the food in your plate? Click image to read more

We enjoy our meals everyday whether its at home or at a restaurant. But have we ever thought of where our vegetables, daals, chicken or rice come from?

What does it really take for the food you eat to get to your plate? It's definitely more than your shopkeeper's generosity! Find out more, shoot your food.

IYCN and HSI with the support of Green Coalition is inviting all enthusiastic and amateur film makers to flip your food chain and show us how and from where your food comes. From the platter to a machine to a farm. find out what we actually pay for when we buy our food and how it even impacts our environment.

Shoot a short film: 5-15 Mins in any format using any equipment
Email: video@iycn.in / Phone: +91 99852 47744
More details on: www.foodinfocus.in & www.iycn.in
For assistance, email us at mailman@greencoalition.net
Last date for entries July 31 2011